Our DevOps Services
We understand that not every size fits all so that is why we provide custom IT solutions to help align tech requirements with business goals.
App Development
Our app development service is the most popular among our clients. This is a full-service process that begins with identifying your project needs and specification. The service is broken down into four phases: Discovery, Development, Test Flight, and Launch. Each phase is described below with an illustration of the overall map of the journey.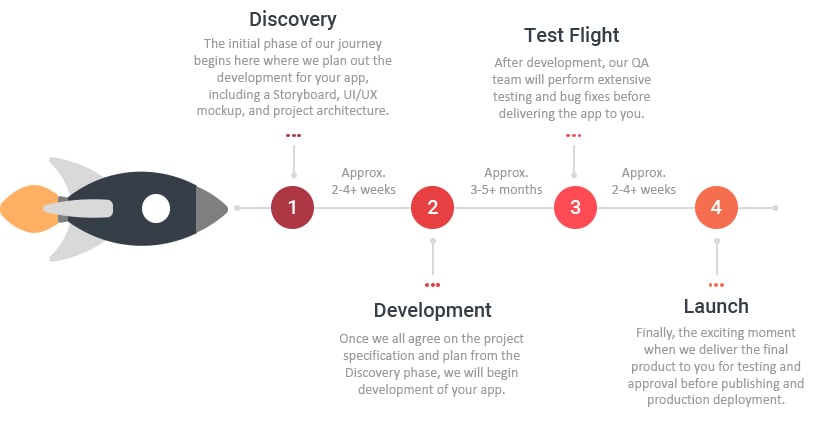 Discovery
The first phase is the Discovery phase. During this initial phase, our team works with you to develop a storyboard and UI mockups detailing what your final application may look like. Our designers provide you with more than just wireframes and screenshots. We do our best to provide a fully immersive mock up that gives you an idea of what the user experience (UX) will be like using tools like Adobe XD. Only when you are satisfied with the design and development plan will we proceed to the next phase — Development.
Development
Following the Discovery phase is the Development phase where our engineers will take the Storyboards and UI/UX mockups and bring them to life. This process can take several months as our engineers design the necessary development environment, plan the required cloud infrastructure and begin coding your application. During the Development phase, we engage with you to review our development progress and any questions our engineers may have that arise during the development process. Our transparent and open communication with you ensures that the final product is inline with your vision.
Test Flight
The third phase is the Test Flight where your product goes through multiple rounds of live testing. The Test Flight phase begins once development is completed and initial tests of your app are successful and demonstrate that the product is ready for a beta test. Beta tests can consist of private tests (only your team and ours), and/or public tests (anyone in the public who is invited). If you're not sure what type of test is best for your product, we'll work with you to determine the ideal test based on the type of app and business model. The Test Flight phase can last anywhere from 2-4 weeks or more depending on the complexity of the product. This phase is very important as the product cannot be moved to the final Launch phase until it has passed all tests with flying colors.
Launch
Once all testing is completed and your app passes testing with flying colors, we continue the journey onto the Launch phase. This is the final and most exciting phase of the journey, but just because it's the last doesn't mean we say our goodbyes. At KeyQ, quality and customer success are important, so even after product launch we will work with you to provide the necessary support to ensure the product is successful in the real world. The Launch phase includes services such as app publishing support (i.e. App Store and Google Play) and bug fixes. Additionally, we will work with you to provide updates and feature changes for your app anytime throughout the lifetime of your app.
Managed DevOps
We provide a comprehensive development and IT operations solution through our Managed DevOps Services. We work with business of all sizes to help achieve technological "zen" by assisting with various IT-related tasks and development processes. The DevOps & Managed Services is a blend of application and infrastructure development customized to your business needs, while having a dedicated team managing your solutions. Our team can work with your existing development team or provide complete support if your organization does not have one.
AWS Optimization
Running your tech stat and IT infrastructure in the cloud can be exciting but also daunting especially when costs seem to add up. As a registered partner of AWS, we are able to provide a comprehensive solution for your IT infrastructure needs. Our AWS Cloud Optimization Service provides a two-fold service that is catered to your business needs. If you are an existing AWS customer, we will work with you and AWS to help optimize your AWS infrastructure following the five pillars of architectural best-practices — operational excellence, security, reliability, performance efficiency, and cost optimization. If you are using the cloud (i.e. on-premis or co-location) or you are with a different cloud provider and are unsatisfied, we will work with you to migrate your infrastructure to the cloud following the five pillars of architectural best-practices.
Don't Miss Another Update
Join our newsletter to stay in the know